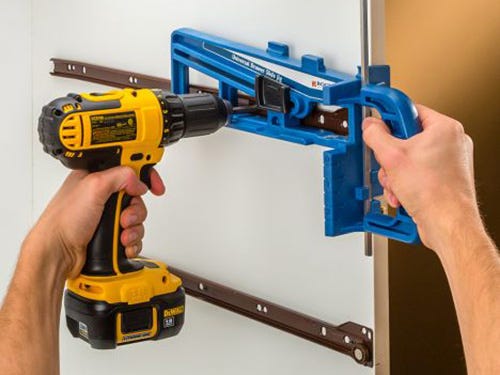 Hate installing drawers? We can sympathize. Getting things to work out right can be a fairly challenging, time consuming, and even frustrating process.
For drawers to travel smoothly, and end up in the right position when they're closed, everything has to line up just right. This is especially true when it comes to drawer slides, which require a degree of mechanical precision, and can be unforgiving, even of slight errors. Awkward work deep inside the cabinet, where there's often very little light and a short supply of space for holding things in place, drilling and screwing in screws compounds the difficulty. Still, there's hope. Here are a few suggestions that we hope will take some of the pain out of the process.
On the most basic level, the best way to get drawer slides to function correctly is to work toward perfect drawer travel geometry right from the start. In other words, take care to build cabinets and drawer boxes as square as possible, and in the correct proportions with one another. While you're at it, get to know the slides you are planning to use, and do everything in your power to build cabinets that make installing them as easy as possible. That way, when it comes time to install the drawers, all you'll have to do is get the slides installed straight, and in the right vertical location..
Even with the most careful planning and building, getting the slides in the right spot and level can be a challenge. The precise, mechanical nature of the average drawer slide doesn't allow much margin for error, and while most drawer slides are adjustable in some measure, it's not often by very much, and not necessarily in every direction. That's where a slide jig can really help out. In fact, if the raw materials – the drawers and cabinets – are as straight and square, a simple, affordable jig can mean the difference between several awkward adjustment cycles and getting the slide in the exactly correct position on the first try.
The Blum Slide Jig Gun, made for use with the extremely popular Blum Epoxy Coated Low Profile Slide, is an excellent example. The slide gun holds the cabinet-half of the slide in a perfectly level position, and makes it easy to keep it there while you either screw it in place or drill a pilot hole. The Rockler Drawer Slide Jig works on a similar principle, and makes level installation of a wide range of popular Accuride ball bearing slides - as well as Blum's low profile series – a simple task. Each of the Jig-It slide jigs is laid out and drilled with mounting hole locations for an entire series of slides. Used in combination with a self-centering drill bit, the Jig-It makes drilling perfectly aligned mounting holes fast and simple – especially when it comes to difficult-to-reach screws toward the back of the cabinet.
For face frame cabinets, another common slide-mounting challenge is bringing the slide out flush with the face frame opening. The most typical solution is to bring the cabinet wall out flush with the drawer opening. This is a common practice among pros and hobbyists alike, and is usually accomplished by simply ripping down material to match the distance between the edge of the face frame and the inside wall of the cabinet, and then attaching it in strips at the drawer slide locations.
A slicker version of the same approach is to use pre-made face frame spacers. Made for Blum slides - but a workable solution for a variety of others, including Accuride ball bearing slides – face frame spacers come in three base thicknesses, each of which can be further adjusted in 1/16" increments using an included set of shims. This helps not only when it comes to getting the right spacer thickness, but can also provide a quick and easy solution for a cabinet that's a little out of whack and needs to have slides installed on a slight diagonal. The spacers come complete with Euro screws and alignment pins for 32mm hardware attachment systems, but also can be simply screwed to the cabinet wall. Either way, the end result is less messing around with getting spacer stock ripped to right thickness, and a little more polished final look.
Another option for the rear end of the slide is to use a slide socket. Blum Mounting Sockets, for example, hold the back end of 230m series slides securely in position on the cabinet back, and allow for minor adjustments to the position of the slide once it's installed. A slide socket is also one of the simplest solutions for situations where there isn't a cabinet wall to rely on, such as a cabinet with two drawer stacks and no partition in between. Remember, though, that the cabinet back has to be able to take a screw, and if you're planning to use 1/4" material for the back, you'll have to add a block of thicker material wherever your have a socket.
Of course, once you have the slides installed, there may be a thing or two left to tackle. So, while we're on the subject, here are a few of words of advice on couple of related challenges: getting drawer fronts attached – if you've built separate drawer boxes and fronts – and on getting the pulls on straight and in a hurry.
One of the most common bottlenecks in the drawer installation process comes when it's time to attach drawer fronts to drawer boxes, and get them lined up in the correct position. Here, simply using the right screws can have a huge effect. Washer head screws have a large, low profile head designed to cover oversized clearance holes in the drawer box. In other words, they give you the opportunity to fine tune the position of the drawer front once it's installed, which turns out to be much easier than trying to fasten them in the perfect spot on the first try. All you have to do is get the drawer front within 1/16" or so of the perfect position on the first attempt. After that, you'll be able to tweak the drawer front into the right spot with out having to remove and reattach it in the process.
Washer head screws can so greatly simplify the process of attaching drawer fronts that you may, in fact, have the energy left over to move right on the drawer pulls – in which case, you'll be looking for an equally expedient method for this final stage. Once again, a simple jig can make all the difference. The Rockler Drawer Pull Jig-It will help you mark off hole locations in about half the time it takes with a tape measure. The jig's measuring scale makes it easy to find the center of the drawer, and a side stop block makes repeating the process on same-sized drawers instantaneous. The jig's front surface is drilled with pre-set spacing for the most common drawer pull bore dimensions, so you won't have to grapple with the usual arithmetic exercise of subtracting the bore width from the drawer front width and dividing by two, etc. In fact, the Drawer Pull Jig-It makes messing up, or taking a long time to install knobs and pulls hard to do. Used together with a few other simple drawer installation helping hands, it may even lead to thoughts like, "You know, this isn't so bad after all."