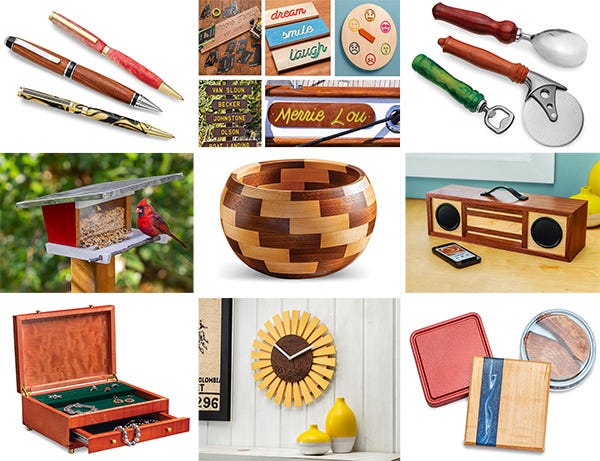 The best gifts are handmade. Here are 10 of our favorite projects to give as gifts. These 10 free woodworking plans include a wide range of projects. Most of them can be built by a beginning woodworker. You can find even more project ideas on our Handmade Gift Guide.

You're sure to find a project that is perfect for just about anyone on your list!
If you have a woodworker on your holiday gift giving list, check out our
Woodworking Tools Gift Guide
to find the top gifts for woodworkers in 2021.
WATCH: Top 10 Handmade Gift Ideas for 2021
Top 10 Handmade Gift Project Plans
Wireless Speakers

Our Single Wireless Speaker Kit and Stereo Speaker Kit make it easy to turn any enclosure into a wireless speaker that will connect to any Bluetooth device.
Download the Stereo Speakers Project Plan
Turned Pens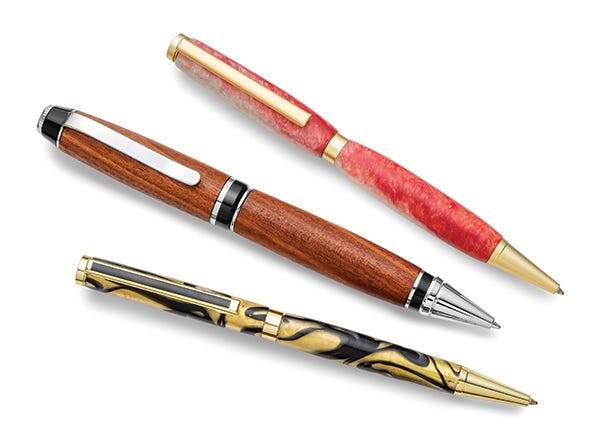 Making pens is a fun and easy way to get started in woodturning. We offer a huge selection of pen mechanisms and turning blanks. Learn More About Pen Turning
Wood and Epoxy Coasters
Combine wood and epoxy to make these creative coasters. Learn to Make Wood and Epoxy Coasters
Bird Feeders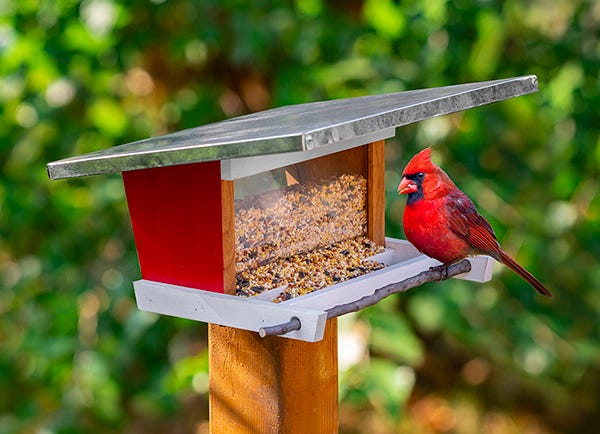 Serving Boards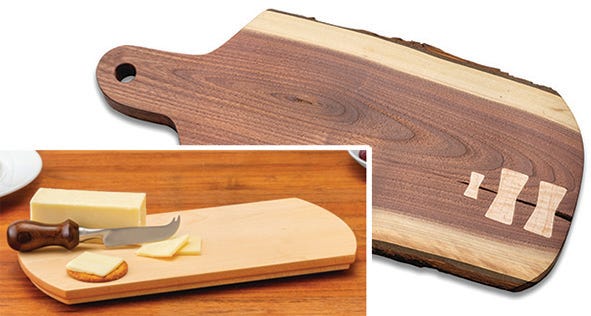 Beautiful wood serving boards will take food presentation to the next level. Select an attractive board or small live-edge slab and shape and finish it as you like. You could cut a handle, rout a decorative edge or add bow tie inlays.
Download this Maple Serving Board Plan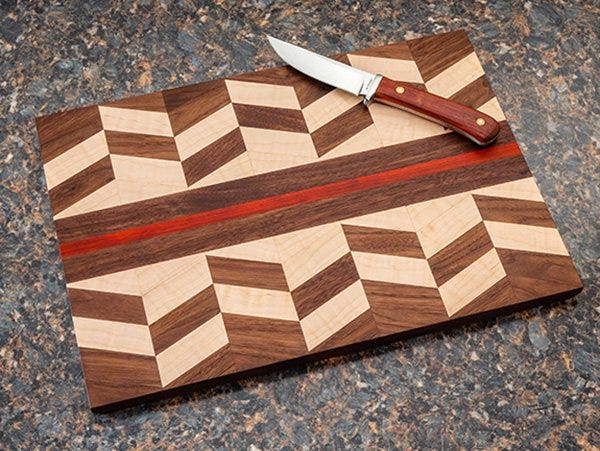 Download this Pattern Cutting Board Plan
Clocks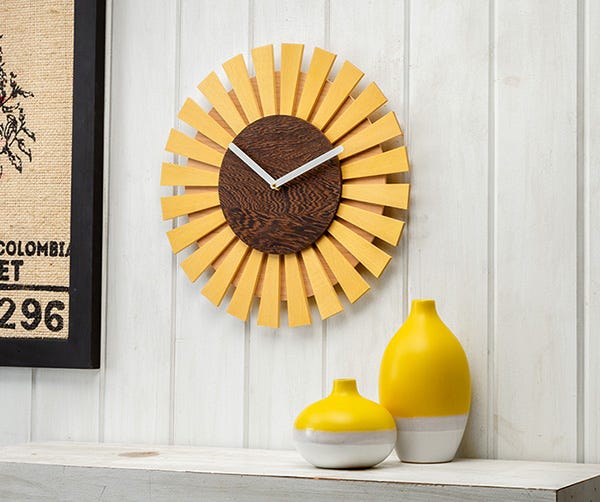 This cheerful sunflower clock will brighten any room.
Download this Sunflower Clock Project Plan
Keepsake Box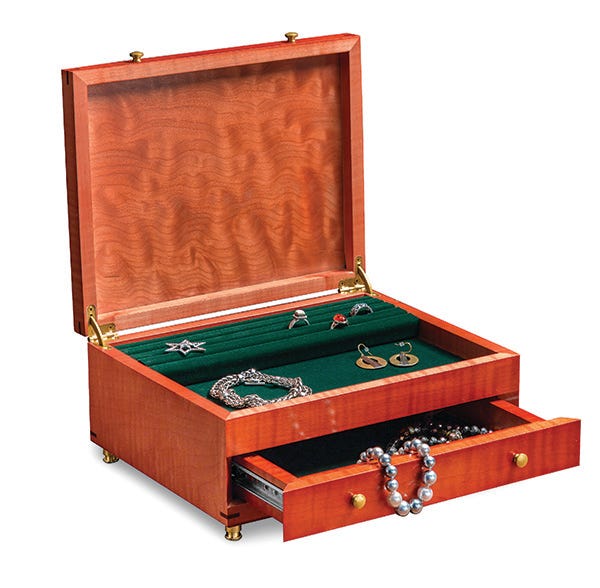 Few woodworking projects are as classic as a keepsake or jewelry box. They are a great way to show off a highly figured piece of wood or interesting joinery.
Download the Keepsake Box Project Plan
Segmented Bowls
A segmented bowl is made by gluing together mitered pieces to form the bowl blank. The size of the bowl is determined by the size and miter angle of the segment pieces. The Rockler Perfect Miter Setup Blocks make it easy to set the precise miter angle to form rings with 4 to 12 sides.
Learn How to Make Segmented Bowls
Custom Signs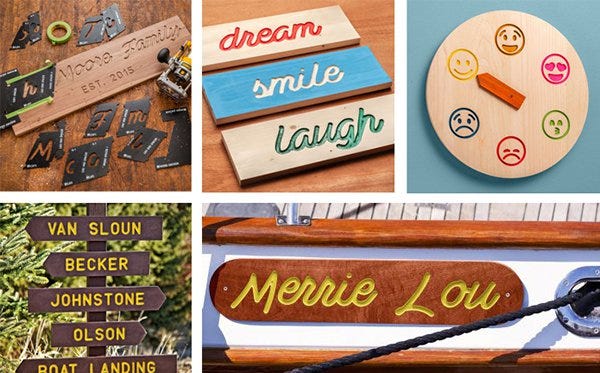 Making custom signs is easy with the Rockler Interlock Signmaker's Kits. We've also got these fun emoji templates to add expression to your sign.
Learn How to Make Custom Signs
Turned Handles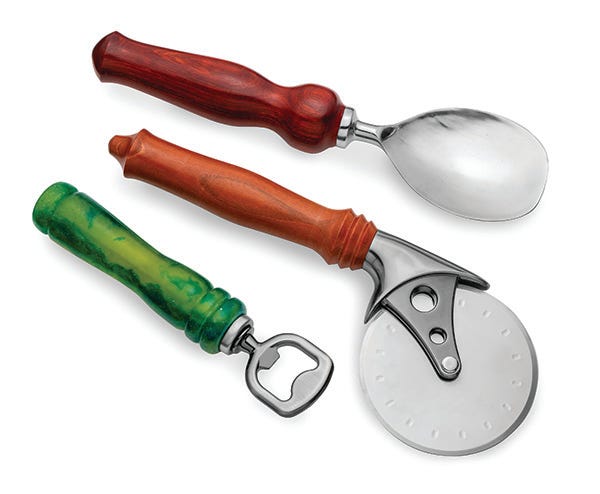 Turning a handle for one of the Rockler Turning kits is a quick and easy way to create a useful and unique gift.
Learn How to Turn Handles