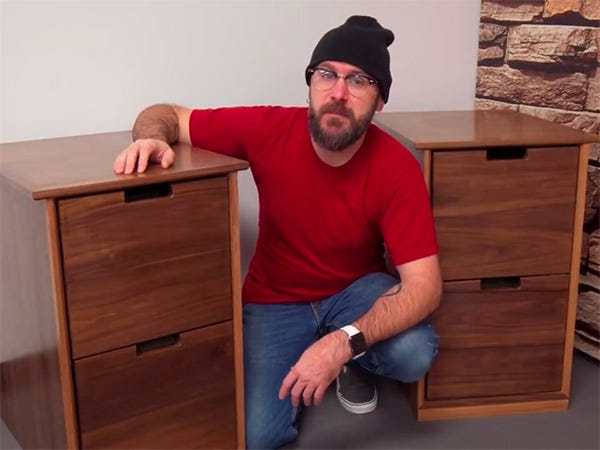 In this video, David Picciuto shows you how to make a hanging filing folder cabinet out of walnut plywood.
David Picciuto builds a small cabinet perfect for a small home office, with sliding drawers and hangers to hold all your file folders. This is a great tutorial project that any woodworker can make with basic woodworking tools.
You can find more great projects and techniques from David Picciuto at his website.
Featured Tools: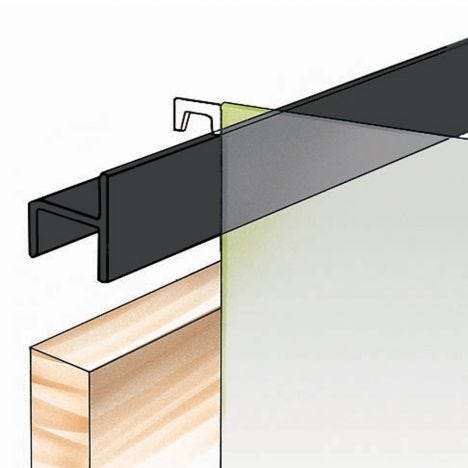 Folder Hanger Easy Slip-On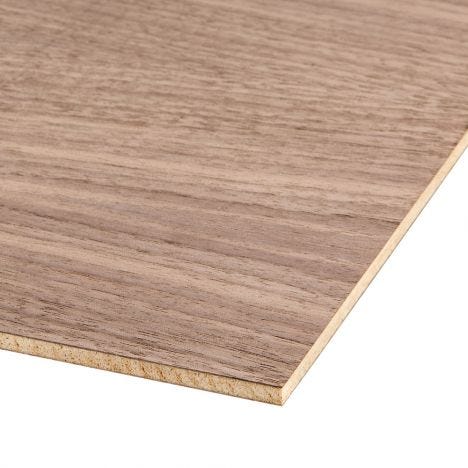 24" x 48" Walnut Plywood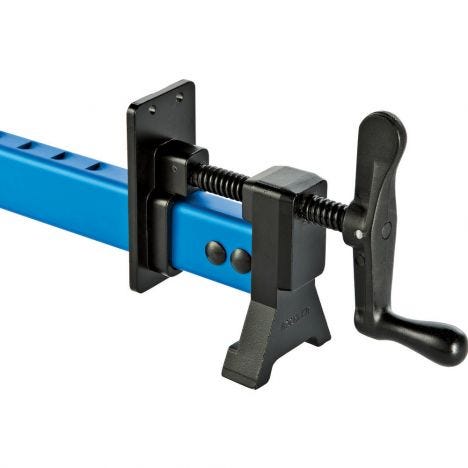 Sure-Foot Aluminum Bar Clamps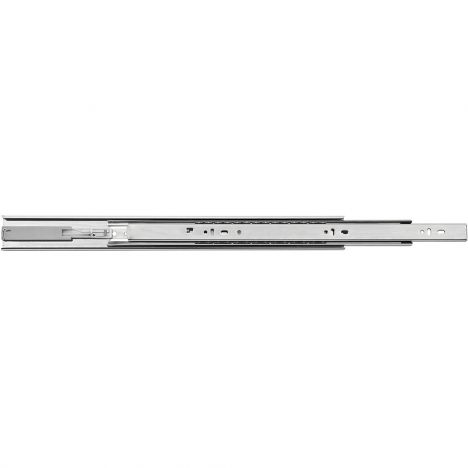 Centerline 3612 75-lb. Full-Extension Drawer Slides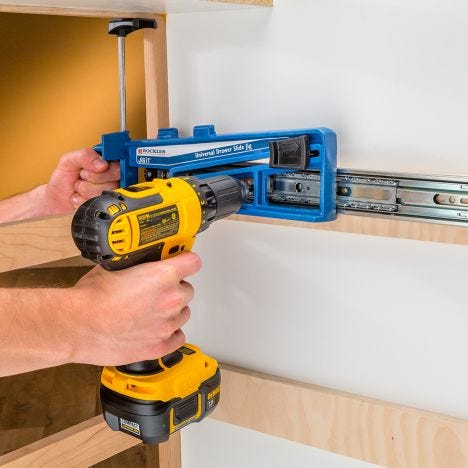 Rockler Universal Drawer Slide Jig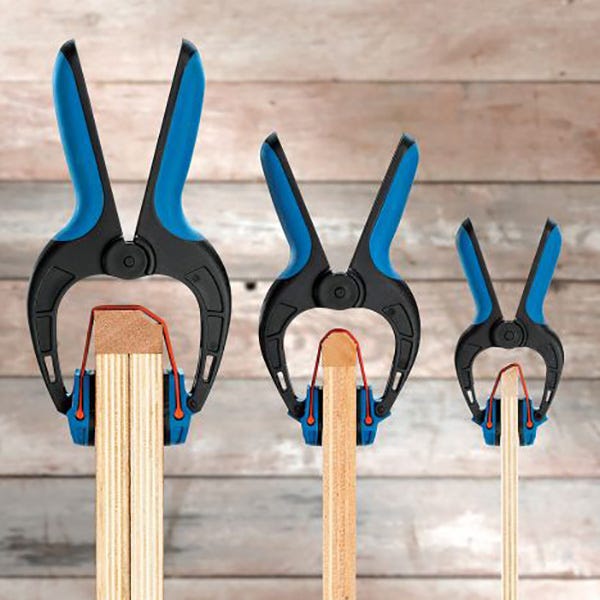 Rockler Bandy Clamps
David Picciuto: Welcome to Make Something with me, David Picciuto. Today we're going to make a pair of these hanging file folder cabinets, check it. Today's video is sponsored by Rockler Woodworking and Hardware, create with confidence. To get this started, we're going to cut all the pieces of plywood. Let's head on over the bench. Now, we're going to attach the bottom to the two side pieces here. We're just going to use ordinary pocket holes for this operation. None of these pocket holes will be seen. I've got my little Kreg pocket hole jig and the special pocket hole drill bit.
We're just going to glue and pocket hole the bottom pieces in. The bottom piece sits on the inside, and the top piece sits on the outside. I screwed up already. I wasn't supposed to drill the pocket holes in this guy, I was supposed to drill it in this guy. I've already got this part assembled so now I got to position my pocket hole jig in there awkwardly. Luckily, this will be inside of the file cabinet. It'll never be seen and it'll be all right. It was a good lesson learned.
You can see our mistake pocket holes right there. Not a big deal, they won't be shown, it's a file cabinet you don't see the inside of a file cabinet. Don't worry about the exposed edges, we're going to cover all that up with some trim. That's number one, and we're building two of them today. We have the carcass of the two file cabinets built. Now it's time to build the four drawers. Over here at the table saw, I have a half-inch sheet of plywood and a stop setup on my crosscut sled to make the drawers.
We have the carcass of the two file cabinets built. Now it's time to build the four drawers. Over here at the table saw, I have a half-inch sheet of plywood and a stop setup on my crosscut sled to make the drawers.
For the drawers, I'm using half-inch plywood and normal pocket holes would be too big for it so I'm using the micro pocket drill guide that I got from Rockler here and that is this guy right here and replaces this little insert in the jig. Now, I can drill smaller holes and use smaller pocket holes in the smaller pieces. I already have one assembled. The cool thing about file cabinets is you don't need a bottom. All I'm doing is butt joints with pocket hole screws in there using the micro pocket hole screws jig.
Now, it is time to install the drawer slides here. I got this handy jig from Rockler called the universal drawer slide jig. The cool thing about this is that this slips right in there, butts up against that stop and then there's this little wedge. This holds it in place. Once we place it in here, it has this little stop that rides up along the edge and it puts it the perfect distance back and makes it parallel to the bottom.
There we go. Got all the slides in there. Now, we can attach the slides to the drawers and get them installed. I'm just setting my drawer in place here. I got some spaces in there just so it doesn't rub up against the bottom. Now, I get that nice and flush. I can pull the door out just a little bit and I can insert one screw in right here. Then we can pull it out a little bit more. I can take this out, throw it on the floor and do this. There we go.
Now, we're going to make the drawer front. I already have my panels glued up and sanded. We're going to rip them and then cross-cut them to length. Then we're going to take them over to the bandsaw to cut. We're going to cut this out on the bandsaw here. I wanted the rounded corners on here so I drilled that out first. This is a new bandsaw I don't have it on a stand, that's why we're on the floor. I don't have it hooked up to dust collection yet but we don't have too much to do here.
Now, that we have our bottom footer here with the router profile, that is going to go right there and that's going to go right there. Then we're going to make a trim that's going to go all along here to cover up the exposed plywood edges. Cut up a bunch of pieces of trim. I'm going to have 45-degree miters in the corners here. I'm just going to use my picture frame sled to accomplish that.
We have our molding here and we're going to rout. just going to glue the trim in place. These are the Rockler Bandy Clamps. It's got the little plastic band in there, it allows you to do things like that which is really cool. Now, we're going to make the edge band that's going to go around the top. We'll just do the three pieces here with a mitered corner and then we'll head on over to the SawStop and do that. Now we're going to just glue the trim pieces right on. we attach our drawer faces, we're just going to shellac everything.
We got one heavy coat of shellac on there with the brush. I put it on there just haphazardly against the grain with the grain all over the place because I wanted to go under real thick, that first coat soaks way in. Now, I'm going to sand that down very lightly, and I'm going to wipe on two more coats and a little bit of sanding in between and it's going to be a silky smooth finish. It's time for the second round of shellac. I've thinned it down.
Now, the drawers are installed. I got these file folder slip-ons from Rockler that I will cut the link and they will slip right on top over the half-inch plywood and the hanging file folders will hang right on that.
These guys are all done I really liked the way they came out. My favorite thing about them is the finish. The shellac finish on there came out phenomenal. The funny thing about this is I'm going to remove the tops on both of these file cabinets and I'm going to use them as the legs of my desk over in my office. I'll have one on one side of the wall, one on the other and then run one a walnut plywood down the length of the entire wall. That will be an upcoming video. Be sure you're subscribed so you don't miss that one. I'm sure I can find a new purpose for these tops in a future project. I am building what I'm calling my dream office and this is the second video in that series.
The first thing you might recall, I turned my wall into a dry erase magnetic board and these are actually going to sit up against there where my desk is going to go. I got a couple more videos coming out in that series over the coming months. I will have plans for these guys. There'll be a couple of little things different in the plans. Of course, the plans for you guys will have the tops or you could just ignore the tops if you want to turn these into a desk yourself, but I want this front to stick out a little bit more. It sticks out a little bit, but visually, it needs to stick out just a little bit more.
These file cabinets don't have a back on them and I don't think they need them. I'm definitely not going to put them on mine because they're going to cover up some outlets and I want to be able to access those outlets down below where my printer is going to plug into. Both of these file cabinets I made to be at spec height for a desk if you remove the tops. I believe that's between 28 inches and 30 inches is a normal desk height. If you want to make these, you can use them as standalone file cabinets or they could be the base for your desk.
I would like to thank Rockler Woodworking and Hardware for sponsoring today's videos. Many of the jigs and the materials used in today's project come from Rockler and I have links to every single thing that I use down in the description. Thank you, Rockler, for making these videos possible. All right, folks, that is it. I put out new videos every Thursday. As always be safe, have fun, stay passionate, and make something.