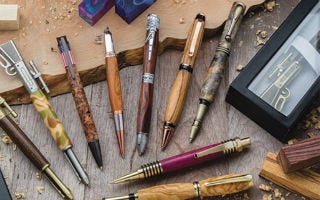 Pen turning has always attracted woodworkers with a taste for highly finished, eye-catching work and a need or desire to keep their investment in space, money and time to a minimum. With a compact set of tools and equipment and a very modest investment in supplies, almost anyone can be cranking out hand turned pens and other small turnings in a very short time, with results that are "as good as it gets."
Even if you only have a spare room or a tiny corner of your garage to call your shop, pen turning will allow you to work with a range of materials, and complete projects flawlessly and without cutting a single corner.
Right about now, we're guessing the most useful information we can offer is advice that comes with a few un-glossed figures. Here's everything you'll need to start turning out pens - along with a variety of other turned projects - and a rough idea of what it'll cost.
A Lathe
The Excelsior Mini Lathe will only set you back about $300, and will give you the option to expand your woodturning endeavors to include spindles, bowls, plates and a variety of small to medium-sized turning projects. For the price, the Excelsior is a surprisingly robust machine, with a 1/2 hp motor, vibration-absorbing cast iron construction, and a nearly 10'' swing (the maximum diameter of stock that can be turned). It comes with everything necessary and important for most types of turning – five speeds, a bearing center for the tail stock, a spur center and face plate – and can even be lengthened with an optional bed extension to accommodate stock long enough for table legs and balusters.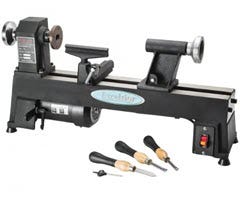 A standard lathe , like the original Excelsior, with speeds laid out in steps and a manual move-the-belt-form-one-pulley-to-the-next speed change method is typically the most affordable entry point into the world of pen turning - and perfectly adequate to the task.
If you think you'll lake to woodturning with a vengeance, however, stepping up to a more versatile variable speed lathe is worth some thought. With Rockler's new Excelsior Variable-Speed Lathe, you'll be able to quickly dial in any speed you want from 760 to 3200 rpm.
This simple convenience can save loads of time over the long haul, and will let you speedily jump from a slower speed bowl turning project all the way to a little high speed finishing on a narrow spindle.
Turning Tools
You'll also need turning tools . Here again, you won't need to spend a fortune (although you could!) An experienced turner can turn a pen with nothing more than a skew chisel. Beginners will have a much easier time of it by investing in a pen turning kit, which includes all of tools necessary for just about anything you'd ever want to do to a pen.
One thing to keep in mind is that Carbide insert tools are considered the "training wheels" of turning as they are easier to master than traditional turning tools. They also have a longer working life because they have higher resistance to wear.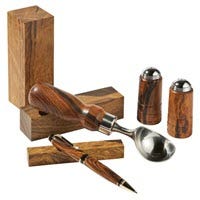 Hardware Kits & Pen Banks
Beyond that, you'll need the "raw materials", a few specialized accessories and finishing supplies. The basic materials list consists of pen hardware kit and, of course, a pen blank. Rockler offers pen kits in varieties too numerous to describe in detail here. Each one contains all of the pen hardware parts needed.
The Stick Fast CA Wood Finish Kit is a good starter kit to create glassy smooth pen finishes.
Drill Press
Before they are turned, undrilled blanks have to be sawn in two and then drilled through their center with reasonable precision to house the pen's working components. The sawing can be done with a hand saw, but the drilling is a task best accomplished with the aid of a drill press.
An indispensible woodworking tool in its own right, a drill press is worth considering for any aspiring woodworker. An affordable bench top model will easily handle the pen blank drilling job, and will pay endless dividends in any other area of woodworking you explore.
Even if a drill press isn't in the picture right now, you'll still have plenty of pen-turning options at you disposal. Ready-To-Turn Pen Blanks are pre-sawn, pre-drilled and have the requisite brass barrel liner already glued in place. In other words, they require virtually no preparation, making them a favorite among pen turners who prefer to skip right to the actual turning. They're available in three pen sizes, and in a variety of colors and patterns in man-made acrylic material, and in bubinga solid hardwood.
Pen Mandrel
Whether you choose the convenience of pre-drilled pen blanks, or the myriad options available in undrilled pen blanks, you'll need one specialty piece of equipment to complete the package: a pen mandrel. The mandrel, together with a set of appropriately sized bushings, allows you to securely mount the prepared blank on the lathe. The correct size bushing is listed in each of Rockler's pen kit offers, so there's almost no chance of making a mistake. Together, the mandrel and a bushing set for any size of pen costs less than $25.
If you're planning to cut and drill your own blanks, the Starter Pen Turning Kit is worth considering. It comes with everything you need to get started, including 3 hardware kits, a mandrel and bushing set, a drill bit, the CA glue necessary for gluing in the pen tube, and a pen mill, which makes truing up the ends of the prepared pen blanks a simple matter.
Finishing Supplies
Once the blank is turned, it's on to the finishing process. For that, you'll need a few supplies, beginning with sandpaper. As you develop skill with a skew chisel, you'll find that your sanding cost and efforts will steadily decrease. But even if your first few efforts are a little rough, the size of the project and the fact that it is spinning on a lathe make the sanding process fairly quick and painless. The Woodturner's Multi-Roll Sanding Pack contains 20 foot strips of 150, 240, 320 and 400 grit sandpaper – everything you'll ever need for a small scale solid wood turning project.
The final finish for your pens will depend in part on your finishing preferences and in part on the type of blank you've used. Solid hardwood pens can be finished in the same way that any other turned wood project is finished.
There are a number of excellent turned wood finishes available, a few different techniques, and many, many opinions on which ones work best. For a tradition turned wood finish, we hear great things about Behlen Woodturner's Finish, Hut Wood Finish, and Hut Crystal Coat.
Acrylic pen blanks don't require a film finish and only need to be polished to the desired sheen. Some of the most interesting natural wood blanks are "resin stabilized", meaning that they are impregnated with plastic resin to make them dimensionally stable, and in most cases, can be simply polished to a high sheen as well.
The polishing process involves sanding with successively finer grits of abrasive until the pen blank material itself develops a glass-smooth surface. Once you've sanded your way through the sandpaper grits, Micro Mesh abrasives will take you to the rest of the way. Essentially a "high tech" sandpaper, Micromesh is available in grits ranging from 1500 to 12,000, and is designed to produce a nearly perfect scratch pattern. The 2" x 2"
Bench Vise
Finally, there's the assembly process, which simply means pressing the pen tip and other hardware parts in place in the pen tube. The assembly process can be accomplished with bench vise, or even a Quick-Grip clamp. Pressing the pen parts together isn't complicated, but it does require keeping the parts in correct alignment throughout. Rockler's Pen Press/Drilling Jig is designed help keep the pen parts in alignment, and to make applying steady, even pressure easier. You can make pens without it, but the added piece of mind it affords during the (literally) make-or-break assembly process – and the way that it streamlines the blank drilling process – make it worthy of serious consideration.
See just how easy turning a pen can be with this great step by step video!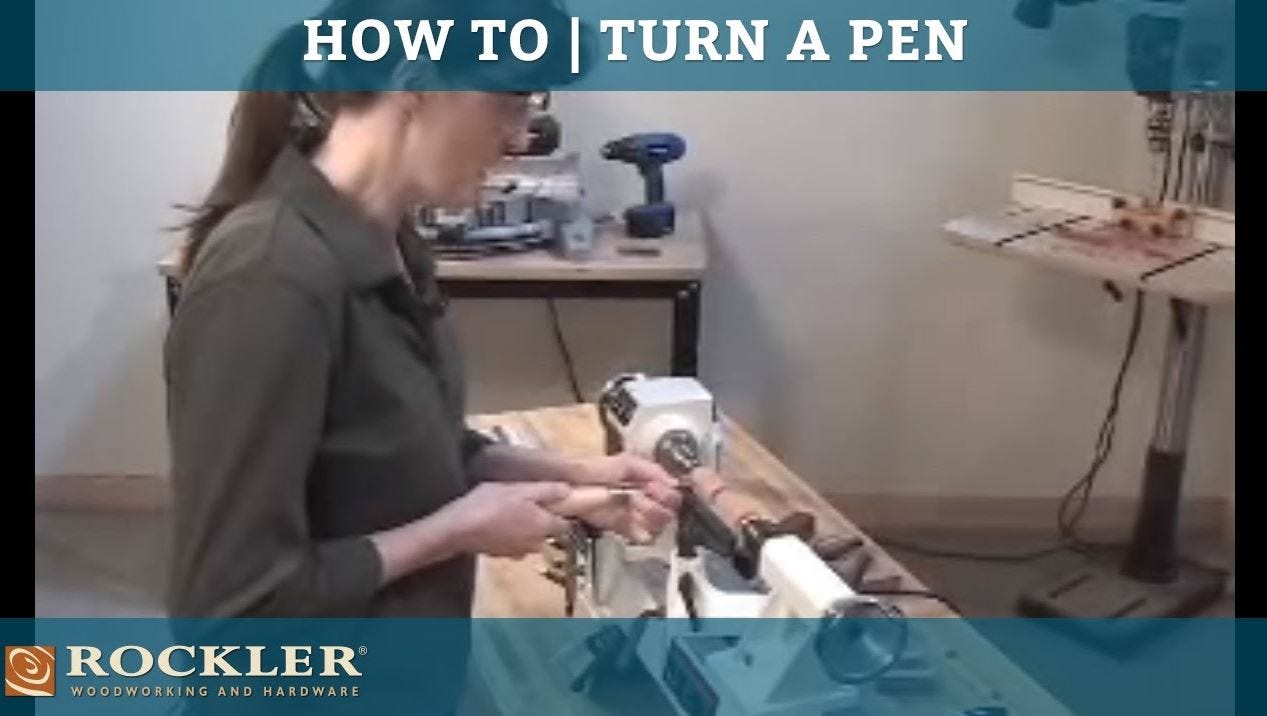 And that's it, you're finished! What's the tally?
The Excelsior Mini Lathe, the Crown Tools Pen Turning Set, a mandrel and bushing set, a hardware kit, a pre-drilled pen blank, a $50 finishing budget, and a Quick-Grip clamp for the assembly process can be done from scratch for less than $600. This basic kit will let you continue with a number of pen turning options using pre-drilled blanks, and give you a great start on general wood turning. Assuming you already own a few basic tools – a saw, a square, a few clamps - adding a bench top drill press will give you one of woodworking's core tools and greatly expanded pen turning options without pushing you past $700. Make $850 your target outlay, and you can throw in the Pen Press/Drilling Jig, a pen turning book and have money left over for materials.